Dutch Boy® Gloss Masta™ Quick Drying Enamel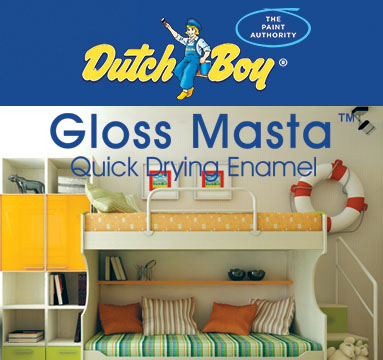 PACKAGING:
¼ Liter, 1-Liter, 4-Liters
FINISH:
Gloss
APPLICATION:
Stir well before using. Apply by brush, roller, or spray.
PRACTICAL COVERAGE:
25 to 30 square meters
DRY THROUGH:
To touch: 5 hours
To recoat: 8-12 hours
Full cure: 3 days
THINNING SOLVENT:
Use only Dutch Boy® Paint Thinner 6000
TINTING:
Use Dutch Boy® Super Tint Oil Tinting Colors for minor color adjustments only
CLEAN UP SOLVENT:
Dutch Boy® Paint Thinner 6000
AVAILABLE COLORS:
6710 White
6722 Ivory White
6730 Silver Gray
6740 Royal Blue
6742 Sky Blue
6743 Ocean Blue
6756 Jade Green
6751 Dark Green
6753 Grass Green
6761 Lemon Yellow
6765 Caterpillar Yellow
6776 Orange
6771 International Red
6773 Maroon
6782 Dark Chocolate
6783 Caramel Brown
6784 Maple
6790 Black
SURFACE PREPARATION:
Wooden Surfaces
Surfaces to be painted should be clean and dry, free from oil, grease, dust, dirt, and all loose grit and mortar. Hammer all nails deep enough to apply putty. Sand rough wood until smooth and then dust off before painting.
Scrape off all loose, scaling, flaking, and peeling paint manually. Wash surfaces clean and completely remove chemical residue. Let it dry then prime with Dutch Boy® Classic™ Flatwall Enamel before recoating.
Metal Surfaces
Wipe the surface with a rag soaked in paint thinner to remove grease, oil, wax and other foreign matter. For new, galvanized surfaces, etch the surface by applying a metal etching solution. Rinse with water and dry immediately.
Unpainted galvanized surfaces that have been exposed for 6 months or more need not be etched.
For recoating pre-painted galvanized surfaces in good condition, sand lightly wipe the surface with a clean rag before applying paint. Remove all loose paint film to sound surface. Spot prime bare substrate.
For corroded galvanized surfaces, remove rust by wire brushing and use a metal etching solution. Let it stay for 10-15 minutes. Be sure to wash surface thoroughly with water and solvent wipe to dry. Immediately prime after drying.
PAINTING SCHEDULE:
Wood
Primer
Dutch Boy® Classic™ Flatwall Enamel 6510
Putty
Dutch Boy® Glazing Putty 6210
Topcoat
Dutch Boy® Gloss Masta™ Quick Drying Enamel
Metal
Primer
Dutch Boy® Red Oxide Primer 6170
2nd & 3rd coat
Dutch Boy® Gloss Masta™ Quick Drying Enamel