Dutch Boy® Roofmaster™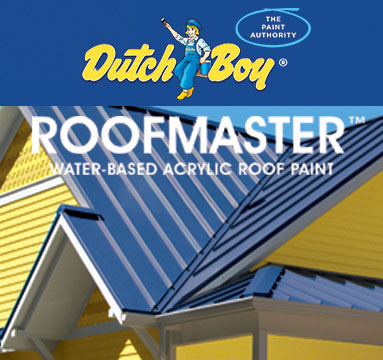 Dutch Boy® Roofmaster™ is a durable and attractive water-based acrylic roof paint. It is designed to resist cracking, peeling, and chalking with excellent gloss retention that lasts longer than any conventional roof coating system. It is ideal for galvanized iron surfaces, pre-painted galvanized sheets, and unglazed roof tiles.
Share :
PACKAGING:
4-Liters, and 16-Liters
FINISH:
Gloss
APPLICATION:
By brush, roller, or airless spray
VOC:
12.3 g/L
PRACTICAL COVERAGE:
20 to 25 square meters
DRY THROUGH:
To touch: 1 hour
To recoat: 2 to 4 hours
THINNING SOLVENT:
Use as supplied. If necessary, thin with not more than ½ Liter of clean water per 4L can.
TINTING:
No tinting required.
CLEAN UP SOLVENT:
Water
AVAILABLE COLORS:
7473 Spanish Red
7476 Brick Orange
7455 Baguio Green
7447 Delft Blue
7425 Sierra Beige
7472 Terra Cotta
7411 Laguna White
SURFACE PREPARATION:
Wipe the surface with a rag soaked in paint thinner to remove grease, oil, wax and other foreign matter. Etch new, galvanized surfaces with a metal etching solution. Rinse with water and dry immediately.
Unpainted galvanized surfaces that have been exposed for 6 months or more need not be etched.
For recoating pre-painted galvanized surfaces in good condition, sand lightly then wipe the surface with a clean rag before applying paint. Remove all loose paint film to sound surface. Spot prime bare substrate.
For corroded galvanized surfaces, remove rust by wire brushing and use a metal etching solution. Let it stay for 10-15 minutes. Be sure to wash surface thoroughly with water and solvent wipe to dry. Immediately prime after drying.
For unglazed roof tiles, clean surfaces to be painted to remove dirt, dust, grease, oil, and other contaminants.
PAINTING SCHEDULE:
Primer
G. I. Sheets- Dutch Boy® Red Oxide Primer 6710
Unglazed roof tiles- Dutch Boy® Tex-a-crete™ Primer 3110
Topcoat
At least 2 coats of Dutch Boy® Roofmaster™ in any color
Repainting
For galvanized sheets with paint in good condition, clean surface from dirt and dust by washing then apply 2 coats of Dutch Boy® Roofmaster™.